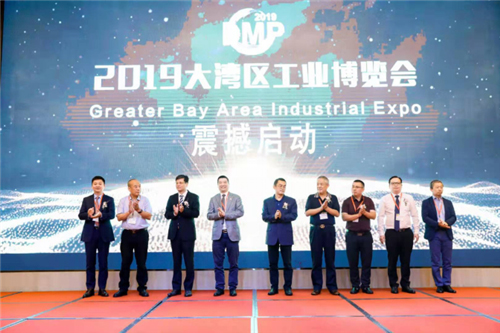 The first Greater Bay Area Industrial Expo is scheduled to take place at the Shenzhen World Exhibition and Convention Center in South China's Guangdong province from Nov 26 to 29, according to information released during a news conference held on July 25.
The industrial expo was upgraded from the former China DMP International Mould, Metalworking, Plastics, and Packaging Exhibition, and will be the first large-scale industrial technology expo held in Shenzhen.
Liang T'ien-fu, president of Hong Kong-based Paper Communication Exhibition Services Group, the organizer of the expo, said at the news conference that the industrial expo will bring new technologies, equipment, and materials, as well as fresh ideas and methods to the industrial development of the Greater Bay Area.
The Greater Bay Area is composed of nine cities in Guangdong province – Guangzhou, Shenzhen, Dongguan, Foshan, Zhuhai, Zhaoqing, Zhongshan, Jiangmen, and Huizhou – as well as Hong Kong Special Administrative Region and Macao Special Administrative Region.
The exhibition area of the industrial expo is planned to be 160,000 square meters, with seven themed display areas and 11 thematic pavilions. In addition, more than 30 forums, seminars, and product launch events will be held during the expo.
More than 1,600 worldwide renowned companies are expected to take part in the industrial expo, such as Haas Automation Inc and Hardinge Inc from the United States, Mitsubishi Electric from Japan, DMG from Germany, and TaeguTec Ltd from South Korea.
It is expected to attract more than 130,000 professional visitors from more than 100 countries and regions.
To date, about 60 manufacturing industry-related associations have announced plans to participate in or visit the industrial expo, including the China Machinery Industry Federation and the China Robot Industry Alliance.
The DMP exhibition, known as the "No 1 industrial exhibition in South China," was an important platform of manufacturing technology cooperation and exchanges among the Chinese mainland, Hong Kong, Macao, and countries in Southeast Asia.
The 20th DMP exhibition, held in Dongguan from Nov 27 to 30, 2018, covered an area of 124,000 sq m and boasted 7,181 booths. It attracted 1,675 exhibitors and 123,000 visitors from home and abroad, both of which were a record high.