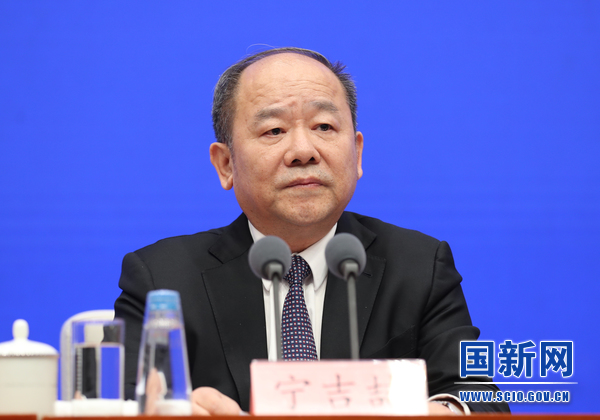 China will continue attracting foreign investment to its advanced manufacturing and high-tech sectors this year, offering new business opportunities for global stakeholders to participate in its next-stage, high-quality development paradigm as mapped out by the country's new five-year development plan, officials and analysts said.
The country will encourage foreign investment participation in the development of China's high-end manufacturing industry, new infrastructure construction and innovation-driven development, according to the country's top economic regulator.
Ning Jizhe, deputy head of the National Development and Reform Commission, said the country will strive to promote the implementation of major foreign investment projects. So far, four groups of major foreign-funded investment projects have been launched in China, with a total investment of over $110 billion.
"This year, the fifth group of major foreign-funded projects will be launched (in China), backed by supportive policies in terms of industrial planning, land use, environmental assessment and energy use," Ning said at a State Council Information Office news conference on Monday.
Against the backdrop of a sharp decline in global cross-border direct investment, China has seen significant growth in the actual utilization of foreign capital, with nonfinancial foreign direct investment for 2020 jumping 4.5 percent year-on-year to $144.4 billion, according to the National Bureau of Statistics.
In January this year, China made a good start in the use of foreign capital, which rose by 6.2 percent year-on-year and totaled $13.5 billion for the month.
"Foreign-funded enterprises have maintained stable operation and production in China. Having coped well with the epidemic impact, a number of major foreign-funded projects are pressing ahead steadily," Ning added.
A white paper by the American Chamber of Commerce in South China said 94 percent of member companies based in the United States said they were optimistic toward 2021's business outlook in China. Also, China remained the top investment destination of more than half of the surveyed companies.
Experts said China's ongoing efforts to boost foreign investment are in line with the draft Outline for the 14th Five-Year Plan (2021-25) for Economic and Social Development and Long-Range Objectives Through the Year 2035, which says China has vowed to unswervingly open its economy wider and expand institutional opening-up in the coming five years.
Citing specific opening measures outlined by the 2021 Government Work Report, Cheng Shi, chief economist at ICBC International, said the government is pursuing expanding opening-up at a larger scale and at a deeper level.
"China is seeking all-around cooperation and long-term exchanges," Cheng said. "China's economic and financial openness highlights both consensus on sentiments and values and mutual benefits and win-win outcomes. It will be committed to promoting the building of the community with a shared future for mankind and expanding opening-up at higher levels."