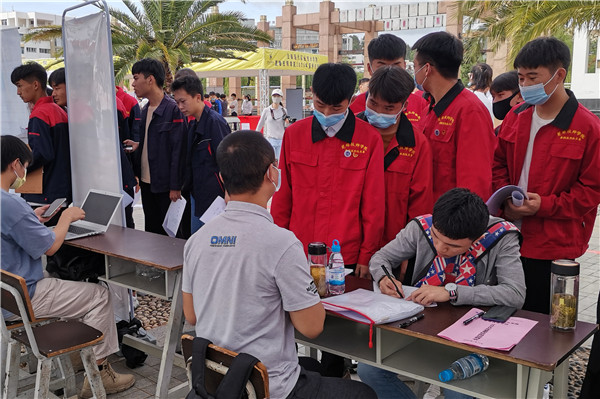 Jiading offers more than 10,000 jobs to Chuxiong Yi autonomous prefecture in Yunnan in the first half of this year, bringing 228 workers to the district. [Photo/jiading.gov.cn]
Jiading, a district in Shanghai, has launched a poverty relief initiative to boost employment among poverty-stricken people in Chuxiong Yi autonomous prefecture, Southwest China's Yunnan province, according to a local news report on Aug 17.
The district sent a team of entrepreneurs and professionals to Chuxiong, and over 1,195 jobs were offered to locals.
Shanghai Huate Group, a Jiading-based company involved in spare auto parts and mold design, organized a job fair in Chuxiong earlier this year, resulting in 23 graduates of Chuxiong Technical College finding employment.
"I learned many practical skills working at Huate," said Li Tao, one of the 23 graduates.
The company provided graduates with free shuttle buses, accommodation, and guidance in order to help them adapt to the new working environment.
Statistics show that Jiading offered more than 10,000 jobs to Chuxiong in the first half of this year, attracting 228 workers. It also helped 67 poverty alleviation workshops in Chuxiong reopen, further stabilizing employment.
Local authorities have said that Jiading will inject 294 million yuan ($41.5 million) into poverty alleviation projects in Chuxiong this year, including online job fairs intended to stabilize employment and alleviate poverty in Chuxiong.
Jiading was paired with Chuxiong in 2017 in order to help the region develop, resulting in over 325,000 registered impoverished residents being lifted out of poverty. The county's per capita income among the poor rose from 2,467 yuan in 2014 to 10,407 yuan in 2019.